68 Yemeni civilians have been killed and 84 others have been injured in many ​​governorates since the beginning of January 2022.* Most of them were children and women.
SEYAJ.Org. for Childhood Protection condemns the continued plantation of anti-personnel mines and sea mines, in many Yemeni governorates, which have killed and injured thousands of civilians and threatens the lives and safety of millions of others.
Regardless the absence of accurate statistics, since 2014, when the conflict has started, more than eleven thousand of civilians were killed or injured on land and sea as the estimations have indicated
Yemen is considered to be the highest zone in the world in terms of anti-personnel mines. The governorate of Hodeidah has the highest number of mines. Followed by Taiz, then Shabwa, Hajjah, Ma'rib, Al-Jawf and Al-Bayda, as other mined governorates.​ As reported by the Saudi Project Masam Clearing Landmines from Yemen, 129 destructive operations of hundreds of thousands mines and Improvised explosive devices have been held.
According to Experts Information: The most dangerous of the mines is to be called LT10, known as "Khomeini as well". Plastic ones that are difficult for the devices to detect. The experts have mentioned also, that some mines are locally made of phosphorous,internationally banned, high explosive TNT and other very dangerous materials.
SEYAJ.Org. calls "Ansar Allah Al-Houthi Group" to cease immediately using planted mines, and provide clear and specific maps of the mined areas
SEYAJ.Org. calls also, the Yemeni government and NGOs to intensify and expand their efforts to provide physical and psychological health care and social rehabilitation, as well, to all victims and increase awareness to the displaced and residents of the mined areas where the group's militants have been ejected.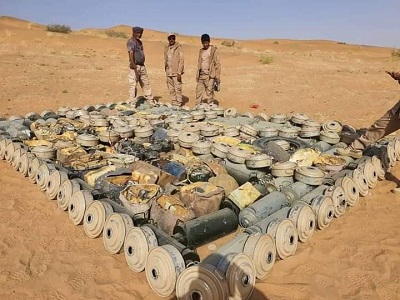 the Use, Stockpiling, Production and Transfer of Anti-Personnel Mines is a flagrant violation of the well-known Mine Ban Treaty of the 1997 Ottawa Convention. It is a violation of national and international conventions related to the protection of civilians during armed conflicts.
Millions of Anti-Personnel Mines still threaten the lives of civilians, especially those returning to their villages after The militia has been expelled.
It is a huge threat to millions of them on land and tens of thousands of fishermen across the Red Sea, west and northwest of Yemen.
By Adopting a random and camouflaging method of planting mines, the Houthi group sets up a Present-Future-War during their expansions. Meanwhile, Mines Experts are expecting decades of danger and damages of civilians to come after the cease-fire.
SEYAJ.Org. asks the National Judiciary to react rapidly to sanction those Law Violators either Individuals or Groups as they are War Criminals.
* According to the Yemeni Landmine
#AlHouthi_Mines_kill_children
#SEYAJ_OrgYemen
Issued by SEYAJ org. for the Childhood Protection
Republic of Yemen
Phone Number +967777808095 & +967730463272
Center of Monitoring and Protection
WhatsApp and calls 00967771400002
E-mail: info@seyaj.org
seyaj.org18@gmail.com
Tweeter @SEYAJ
Facebook "http://www.facebook.com/seyaj.org/