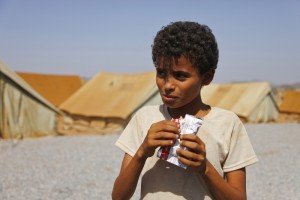 Children make up 60 percent of the 100,000-plus internally displaced persons (IDPs) in southern Yemen, Geert Cappelaere, a UNICEF representative in Yemen, told IRIN. "Almost all child IDPs in the south had distress or trauma upon their arrival in areas of displacement," he said.
Unconscious urination, nightmares and bedwetting were common among children reaching Aden and Lahj governorates from strife-torn Abyan Governorate, said Ahmad al-Qurashi, chairman of local NGO Seyaj Organization for Childhood Protection.
But aid organizations are beginning to provide help.
A 29 August report by the UN Office for the Coordination of Humanitarian Affairs, said 8,773 unrest-affected children from Aden, Lahj, Ibb, Hodeidah, Taiz and Sana'a governorates had been given access to recreational activities such as sports and crafts, and over 3,780 IDPs had been trained on how to spot signs of distress in displaced children.
Though no formal evaluation of recreational activities set up for child IDPs in Aden and Lahj governorates had been conducted, Stina Carlsson, advocacy and communication manager with Save The Children Sweden (SCS), said: "From observations by volunteers and staff monitoring these activities, it has been found that children participating in the activities are getting increased psychological well-being… Nightmares and bedwetting, which affected the children when they had just arrived from Abyan, have decreased," she told IRIN.
Yemen has seen nationwide protests with unrest, displacement and violence in several parts of the country since February 2011.
Football and puzzles
Playing with other displaced children in a child-friendly space (CFS) at Uqba Bin Nafea School in Aden, seven-year-old Munir Abdurrahman has overcome the distress he experienced in Abyan Governorate (hit by fighting between the army and Islamist militants since May).
"Unlike in the early days of his displacement, when Munir refused even to leave the classroom [his family's shelter], now he enjoys playing football with other children," his 33-year-old mother Asmaa told IRIN. "He no longer has distress or nightmares… I feel happy when I see him feeling happy."
Munir is one of several hundred IDP children enjoying games such as football, volleyball, puzzle-solving and skipping, as well as puppet theatre and other art activities in CFSs set up by SCS and funded to the tune of US$200,000 by the UN Children's Fund (UNICEF).
According to Yuko Osawa, a UNICEF child protection specialist, 70 percent of affected children recover through a normal healing process with play and following an improvement in their physical surroundings. The objective of each CFS is healing through "playing" to draw out their inner resilience, Osawa told IRIN.
"We have 45 CFS in IDP settlements – 17 in Lahj and 28 in Aden. Since the first one was opened in June, 2,957 children have been benefiting from these spaces, SCS's Carlsson told IRIN. "The activities are simple but effective."
According to Reham Basheer, a project officer with SCS in Aden, each CFS is managed by trained volunteers from host communities or from the IDP population.
"Some of the daily recreational sessions in these spaces have been extended from one hour up to four hours as children, most notably girls, appear to be extremely fond of them," said Amal Abdullah, a CFS volunteer.
ay/cb