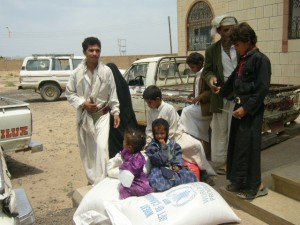 A four-year conflict between government forces and Shia rebels in the northern governorate of Saada has caused psychological problems for children and had an adverse effect on their behaviour, according to a new study (available only in Arabic).
Titled The Psychological and Behavioural Effects of Saada War on Children, the report was conducted by local NGO Seyaj Organisation for Childhood Protection and was released on 22 November in Sanaa, Yemen's capital. It aimed to measure the psychological and behavioural impacts of the war on children, specifically those living in more volatile areas, as well as studying its overall affect on the life of children, their families, their surroundings and their education.
For the purposes of the study, 1,018 children – 629 boys and 389 girls – aged seven to 15 were selected randomly from Razeh District in Saada and other surrounding areas that were embroiled in the four-year conflict.
"We tried to have equal numbers of female and male, but social customs there made it difficult for us to interview more girls," Ahmed al-Qurashi, head of Seyaj Organisation, said, adding that Razeh District was selected as it was one of the first areas in the governorate where conflict took place and yet the study team could move freely there without security concerns.
Between 13 September and 13 November respondents were asked a number of questions based on those in previous studies conducted in war-zone areas, such as Iraq and Palestine.
Fear, bed-wetting and introversion
The study showed that 45 percent of respondents feared loud sounds such as thunder. "Such sounds are linked in children's minds with the sounds of rockets, bombs and bullets," al-Qurashi said.
Some 22 percent of respondents suffered from enuresis (bed-wetting) while sleeping. Experts say in normal times this rate should not exceed 15 percent. Some six percent of respondents suffered from enuresis while awake. This is an indication of their deteriorated psychological condition and their inability to control the functions of their bodies, the study said.
About five percent of the respondents said they sometimes faint upon seeing armed people or hearing thunder or bullets.
The study further said that 16 percent of respondents expressed a desire to cry but did not because they were brought up in communities where crying is considered shameful. "This indicates the extent of their depression and grief," the study said.
Some 21 percent of respondents showed strong signs of introversion and seclusion while 63 percent had nightmares and disturbing dreams during sleep.
About 22 percent of the sample children were thinking of leaving school because of poverty and the deteriorated economic conditions in their areas.
maj/ar/ed