Sana'a: A prominent Sana'a-based human right Organization advocating for children rights said on Tuesday that 124 children, including 19 girls, were abducted in various places across the country.
Releasing its annual report on human rights violations on children, Seyaj Organization for Childhood Protection, said that the deteriorating security situation since 2011 has contributed to the increase in child-abduction cases in Yemen. In the report, 30 per cent of abduction cases occurred in the capital Sana'a followed by Taiz.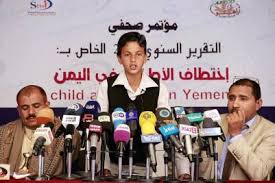 Ahmad Al Qorishi, the head of the Organization, criticised the security services for doing "little" to protect children and not working to punish the perpetrators, citing the case of a 12-year-old boy who remains in the custody of tribesmen in the southern province of Shabwa.
"Instead of hunting the kidnappers, the government formed a presidential committee to convince them to release the boy,"
Al Qorashi maintained that many kidnappers go unpunished as the dispute settled by tribal norms, which mostly pardon them. "Most of the kidnapping cases do not reach courts, which enable kidnappers to go unpunished."
Al Qorashi said that girls pay a heavy price for abduction as families fell stigmatised by their disappearance, giving an example of a 12 girl who was shot dead by family after returning home.
The organisation invited some previously kidnapped children to tell their accounts on their cases. Hadel Mohammad Hassan with her brother Ahmad told the audience that they both were kidnapped from their school in Sana'a last year by a man and a woman. The organisation said that the kidnappers sneaked them away to the province of Dhamar, 100-kilometre south of the capital, and used them as leverage to pressure their father to pay unsettled payment.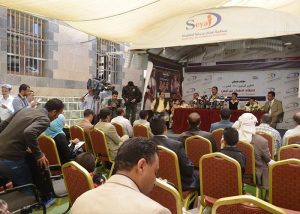 Al Bara'a Wahid, another victim, was also kidnapped early this year and remained in his abductors' custody in the central province of Mareb for three months. The kidnappers demanded his father to repay debt worth 400,000 Saudi Riyal (Dh391,752). Al-qorashi called upon families to report about disappearance of children to get help from security services and his organization.
Al-qorashi said that many abducted children end up begging in the neighbouring Saudi Arabia, urging the Yemeni authorities to combine forces with the Saudi to clamp down on child smuggling across the Saudi border. Yemen and Saudi borders guards have foiled many bids to smuggle dozens children into Saudi Saudi from Yemen's northern province of Hajja.