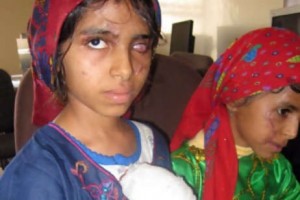 SANA'A // Ten children have been killed and 15 other people injured in landmine explosions since the truce was reached in February between the government and the Shiite Houthi rebels in the northern part of Yemen. According to Seyaj Organisation for Childhood Protection, a Sana'a-based non-governmental organisation, 90 per cent of the landmine casualties were children.
The latest landmine blast, which killed a 25-year-old man and wounded three children, was reported on Saturday in the northern province of Sa'ada. The explosion took place in Haidan district while the four were grazing goats, according to a statement by the Houthis. "There were explosions in schools, farms and even areas surrounding refugee camps, which are supposed to be safe. These are initial figures and do not reflect the whole picture," said Ahmed al Qurashi, the head of Seyaj, during a press conference in Sana'a yesterday.
"We are here to release an urgent appeal to the government and international organisations to save the civilians, mainly children who are usually tasked by their parents to fetch water, wood or pasture and thus fall victims of landmines." The north of the country, mainly Sa'ada province, has endured six rounds of fighting since an on-and-off war erupted in 2004. The last round lasted for six months until a truce in February.
"There is no plan on how to deal with the victims of landmines," Mr al Qurashi said. "The president and minister of health gave orders that these people should be treated at the expense of the government but these instructions are not enacted. "We are here to say to them they will be responsible for any disability these people might incur in the future due to the neglect of their cases now." The UN estimates that the conflict has displaced 250,000 people throughout the country. According to relief agencies, most of the refugees have preferred to stay at camps because their homes were destroyed along with their sources of income.
Qasim al Sumaiki said his two daughters, Athba, nine, and Hana, seven, were severely injured and their friend killer by a landmine near al Mizraq refugee camp when they took their goats out to pasture on March 22. Athba's eye and both her hands were badly damaged. Mr al Sumaiki, along with the parents of four other victims who were present at the press conference, complained of government neglect.
"I took the girls to a government hospital in Hajaa but after a few days, they expelled us because we had no money to pay," Mr al Sumaiki said. "I had to take them to Sana'a and met the health minister who gave orders that they should be treated and operated without charges but the people in the hospital refuse to fulfil his orders." Ministry of health officials were unavailable for comment. @Email:malqadhi@thenational.ae